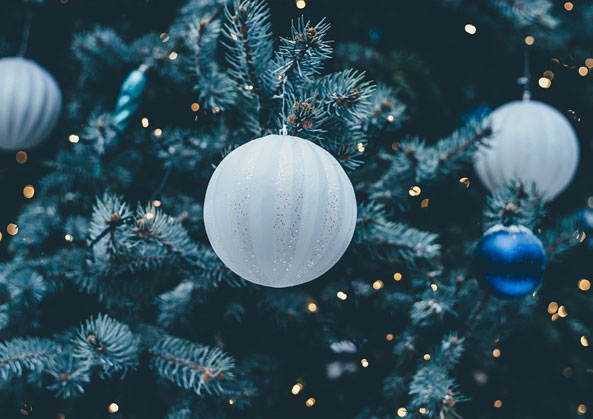 So you didn't find any graphite molds under your tree this year? And no carbon lubricant in your stocking? Well, no surprises there (though many artists and craftsmen would be delighted with some carbon lubricant or a graphite mold!). Even if you didn't receive that graphite mold for Christmas, graphite molds the holidays in ways you might not realize. We'll demonstrate in this blog how Semco and graphite help bring holiday cheer.
Graphite Helped Bring You that Tree
Let's start with carbide powder. No, this isn't something colorful you sprinkle on your Christmas cookies. Carbide powder is the main component in diamond cutting tools. In order to produce the diamond teeth of strong and precise cutting tools, graphite punches are used in heated molds. These graphite punches produce the shape of the tooth.The powder is pressed (in a process called hot pressing) and heated between these graphite punches, molding the carbide powder into teeth for cutting tools.
Some of the Christmas trees cut this year were probably cut with carbide blades.
Graphite Helps that New Electric Vehicle Run
Yes, most EV batteries have graphite in them. Quite a lot in fact. (You can read more about graphite's importance in EVs here) So if you or your significant other just took delivery of a new EV car, happy holidays. We had a small contribution in that, too. Just another way that graphite molds the holidays. And if you didn't yet get that EV you've been eyeing, January isn't a bad month to head to the dealer and make the purchase. The Inflation Reduction Act offers tremendous assistance to consumers who purchase electric vehicles, especially the ones with parts built in the US.
Battery-Powered Children's Toys
You know that feeling of excitement when your young one gets that toy they've been wanting. They giddily unwrap the present, take it out of its packaging, and turn it on, but nothing happens. And there's you, saying "wait, you have to put the batteries in first." The modern toys our kids play with are powered by Lithium-Ion batteries. Because of that fact, you can again say that the graphite industry did its part to mold the holidays.
Other Behind-the-Scenes Ways that Graphite Molds the Holidays
You may not immediately think of graphite when you think "food production." But here's a hint about graphite's role in your Christmas feast: ovens! The bread for your Chanukah dinner or for the French toast at Christmas breakfast? Well, the industrial bakeries that make that bread use food-grade carbon lubricants, and graphite bearings keep the loaves moving through the high-heat ovens.
Art glass is everywhere during the holidays. Think Christmas tree globes, glass vases, stained glass art. Graphite tooling helped shape all of these glass objects and size the workpieces. Even holiday art itself is sometimes made out of actual monolithic graphite, machined per the artist's vision. We have done it.
Although our industry is not necessarily visible to the public at large, we make our little contributions in the background of bringing the holiday spirit into your house.