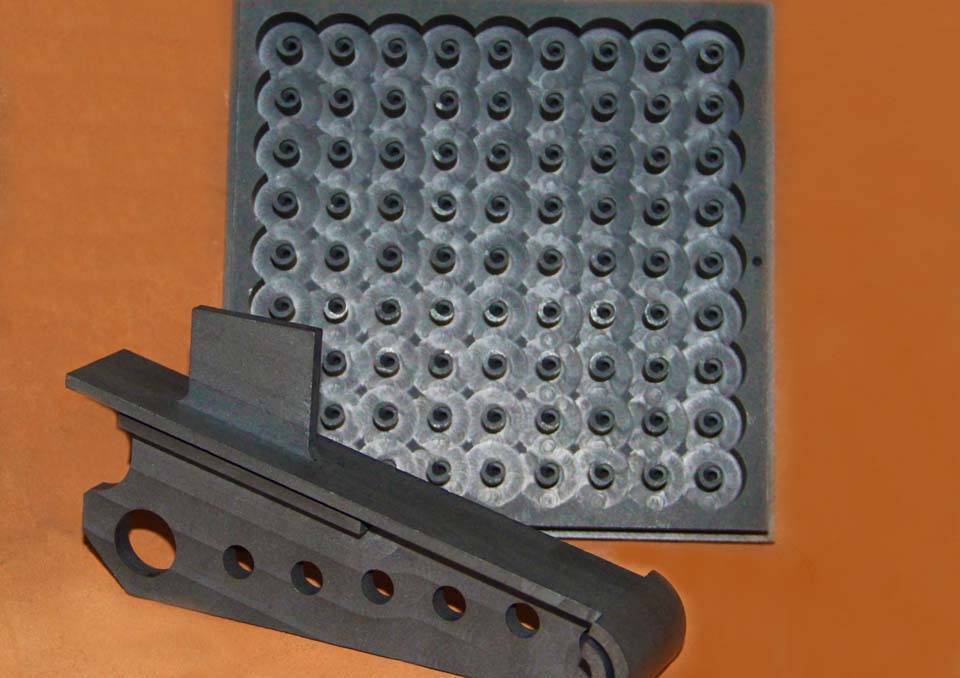 Graphite is a wonder material, produced in nature and produced by man, and in high demand in many industries. Most graphite components, from graphite plates to crucibles, can be machined from pure graphite. However, graphite is a naturally porous material. It absorbs water, for instance, although very slowly. This quality of porosity is not ideal for some applications, and the graphite material must be mixed, or "impregnated," with other materials that alter the behavior of the material in special circumstances, such as in the presence of chemicals or extreme heat. Below are some of the more common impregnation types that Semco has capabilities to produce for our clients whose graphite applications require particular qualities:
Oxidation Reduction Impregnation (NOX):
This impregnation is useful in preventing the oxidation of the binder pitch that holds synthetic graphite together. This impregnation coats the exposed graphite on the exterior of the component and also infiltrates the interior to coat any open porosity and reduce the effect of oxygen on the graphite component. While useful in several graphite applications, NOX is not necessary in a controlled atmosphere furnace or a vacuum environment. Additionally, 900 degrees F is the maximum temperature at which this treatment will provide a benefit of extended component life. Care needs to be taken to establish that this treatment will not cause adverse effects in the intended application process.


Phenolic Resin Impregnation:
This impregnation is commonly used in the production of Graphite Heat Exchangers, as it provides completely closed porosity and will withstand a wide range of temperatures and will work with a large range of chemicals.


Polyester Resin Impregnation:
This impregnation is useful in closing any open porosity inherent in graphitic components. Common uses of this treatment include graphite displacers, steam seals, and pump vanes. The resin actually fills any open porosity exposed during the machining process. Once the bake cycle is complete the component should be 99.9% solid and be able to perform as a seal. An additional benefit of the resin impregnation is an increase in strength and hardness of the graphite component.


Oil Impregnation:
This impregnation is typically used in bearing and bushing applications where additional lubrication may be necessary. This is typically used in a lower temperature application.


Silicon Carbide Conversion:
This process is actually a conversion of the outer layer of the graphite component into silicon carbide. The conversion process requires that a specific grade of graphite be used, as the graphite structure and its coefficient of thermal expansion are of utmost importance. If non-suitable graphite is used for conversion and the CTEs are incompatible, then the component is prone to fracture, spall, or crack on its initial high temperature run. Typical uses of this process include susceptors for semiconductor applications, optical applications, such as a mirror substrate for laser and radar systems, and industrial applications that may require an extremely hard heat resistant surface.


Babbitt Impregnation:
Babbitt is a very popular and inexpensive self-lubricating bearing impregnation, typically used for dry applications at room temperature up to 350 degrees F. Additionally, this impregnation can be used for submerged applications due to its high corrosive resistance and long wear life. The impregnation consists of approximately 90% tin and the balance being copper and antimony. This impregnation can be used for items such as pump and meter bearings, seal rings, thrust washers and any number of roll bearing applications.


Purification:
This process involves taking graphite material to extremely high temperatures and purging the hot graphite with chlorine gas to drive out any impurities. This process will usually produce extremely clean graphite with less than 5ppm of residual ash content. Purification is valuable in the semiconductor, nuclear, and quartz manufacturing industries.


Spray Metalizing:
The process of spray metalizing consists of surface coating graphite components with a layer of metal. Metals such as zinc, copper, aluminum, cobalt, nickel, and bronze can be applied through spray metalizing. This process is useful in electrical contact applications.