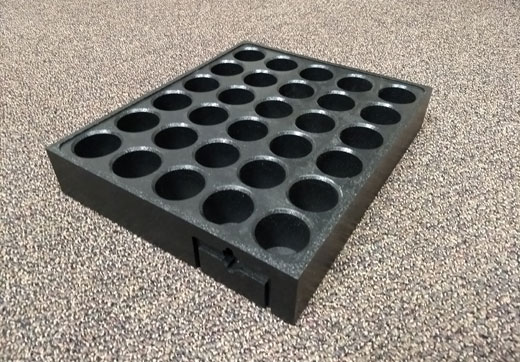 Graphite Components
When graphite components need protection from oxidation or highly reactive chemicals, they are commonly coated with a Polytetrafluoroethylene-based formula with a familiar name: Teflon. Most Teflon is used in industry for purposes from graphite element coating to insulation for coaxial cables. It is even used in valve oil for trumpets. Despite the diverse applications for this useful material, you may never have heard the word "Teflon" outside of the context of cooking. The truth, though, is that Teflon is not just for cookware.
A product's commercial applications will usually be more widely known than its industrial applications, especially when that product is as widely advertised and popular as Teflon. The introduction of this product into household and commercial kitchens in the early 1960s solved an intransigent problem for many cooks: how to keep food from sticking to their pans so they didn't have to scrub it off later. Teflon pans became so ubiquitous that the word "Teflon" even made an appearance in American gangster lore. John Gotti, the boss of the Gambino crime family in the 1980s, was dubbed "The Teflon Don" after being acquitted three times on federal charges. Just as nothing would stick to John Gotti, nothing would stick to your Teflon pans. Stovetop cooking can be divided into two eras: BF and AF--Before Teflon and After Teflon. This is no exaggeration to anyone who has cooked eggs in both a cheap aluminum pan and in a Teflon-coated pan. Before Teflon, people went to great lengths to make their cookware as non-stick as possible. For instance, people would "season" their cast iron pans, a long and tedious process of polymerizing oils and fats on the surface of a pan to make it smooth. After Teflon pans were introduced into the market, what once took someone years to accomplish could now be done right out of the box.
Graphite Elements
The properties that make Teflon an excellent coating for cookware also make it an excellent coating for many other materials, especially graphite components. Its resistance to heat is important in graphite applications because graphite is frequently used in high-temperature environments. Another property of Teflon that makes is useful as a coating for graphite is its low reactivity. As you might know from cooking, Teflon is superior to aluminum for cooking something like pasta sauce because Teflon, unlike aluminum, isn't degraded by the acidity in tomatoes. Similarly, Teflon's low reactivity makes it ideal for coating graphite components used in caustic environments such as laboratories where many corrosive organic and inorganic compounds are used. While graphite itself is mostly non-reactive, it is porous and some caustic compounds can damage graphite. When coated with Teflon, which offers superior protection from various chemicals, the graphite components are protected. Teflon, like graphite, has a low coefficient of friction, meaning that even when it is used to coat graphite, the resulting component retains its lubricant properties.
We'll always be thankful for Teflon when we're frying chicken or sautéing vegetables. It's good to remember, though, the many unsung applications that make this material indispensable in today's world.