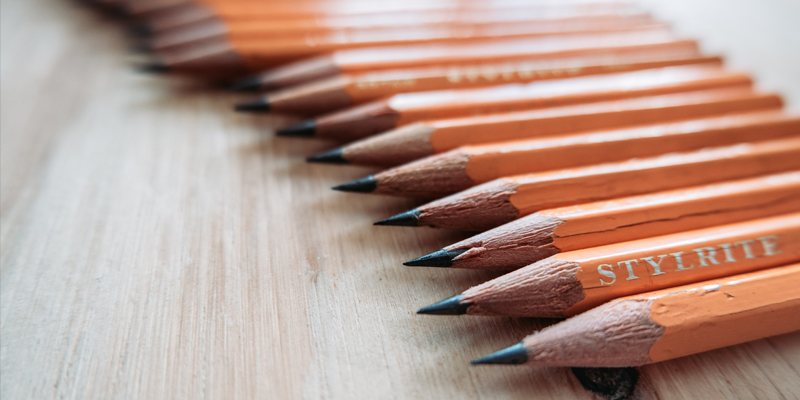 Carbon is known as the base element of many things in nature, including all life forms. The various forms carbon takes in nature are called allotropes. Graphite is one of these allotropes (diamonds are another). You probably knew that carbon is inside of you, but did you know that carbon graphite could be inside your smartphone, or inside your car brakes? In fact, there are literally thousands of industrial and commercial graphite applications. If there is an industrial need or problem these days, it is likely that there is a graphite solution. We handle graphite parts in various items everyday, usually without even knowing it. Here are five everyday products that contain graphite.
Pencils

Ok, so maybe you knew this one. The mother of all graphite applications, the business end of the simple pencil. While lead was used in antiquity as the writing medium for pencils, graphite replaced lead hundreds of years ago. However, lead paints were still used to give pencils their characteristic yellow color until this use of lead was outlawed in 1978, which is why many people still associate lead with pencils. Simple is often profound, and we don't imagine this simple but brilliant graphite application ever going away.


Lithium Ion Batteries

If there was ever a graphite solution that has changed our lives over the last few decades, it is the lithium ion battery, which uses graphite. If you have a battery powered tool or light, chances are high that the battery contains graphite. These batteries were also common in smart phones until recently, and can be found powering countless small devices. The graphite parts in a lithium ion battery are the anodes, which make it possible for batteries to retain their shape and avoid serious structural failures.


Dry Lubricants

This graphite solution uses the smallest of graphite parts -- tiny slivers that protect machines operating in conditions where friction would be a death sentence for the machine. Since wet lubricants can't be used in every machinery application, many pieces of industrial equipment rely on graphite, which is powdery and slightly slippery, even when dry. Because graphite is soft enough to break down into very small graphite parts, it can help to prevent dangerous friction in mechanical equipment. Additionally, since graphite is a form of carbon, it can handle extremely high temperatures. Many traditional wet lubricants, on the other hand, would not be capable of retaining their form in the same environments. Many items that show up in everyday life are machined in conditions where dry graphite lubrication is optimal, especially items with low tolerances (in other words, pieces that have to be machined very precisely). Examples would be some locks, bearings, and threaded screws.


Art Supplies

Graphite is known for its incredibly rich, dark color, which is why it is used heavily in art supplies. From oil paints to charcoal pastels, graphite helps artists create impressive hand-drawn gradients and to darken canvases, all without posing many of the health hazards that other minerals could cause.


Car Brake

This one is a graphite application that improves not only performance but also human health. Asbestos was once used to line brakes, and it functioned well. This material, as you know if you've ever watched the commercials on cable TV, is not good for your health. Now, graphite is used to protect not only car breaks but also air quality. Because of its ability to lubricate in high-temperature situations, graphite helps to reduce noise while driving and braking. Graphite also functions well to allow a smooth stopping transition.