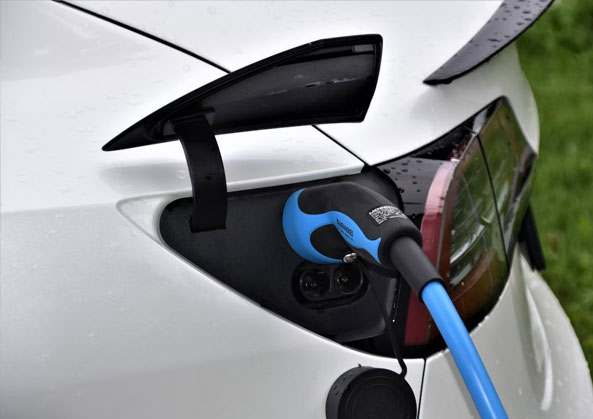 Industrial uses of graphite in the field of renewable energy are well-known. Batteries that store clean energy when the sun sets and the wind dies down rely on graphite components. A fast-growing sector of the graphite market is providing components for solar and wind industries, as well as to battery manufacturers. Electrification is the direction most governments and private entities are adopting in pursuit of the green, renewable power source of the future. However, there are other green industrial uses of graphite. We will explore one in particular here -- hydrogen fuel cells. This technology, which has been around for a while, taps the graphite market for some of its critical components.
We know that solar, wind, and other technologies like geothermal are quickly taking over a large portion of the world's energy markets. However, a significant group of governments and industry leaders feel that other technologies will need to be developed to either supplement electrification, or eventually take over, with electrification being a transitional technology to something even more sustainable. Until our promised future of endless clean nuclear fusion power is a reality, different methods of generating clean energy will need to be in the mix to meet the world's still-growing energy needs. The graphite market is taking note of this as it increases its supplying of hydrogen fuel cell components.
Hydrogen Energy's Resurgence

Hydrogen has been in the energy conversation for a long time. The technologies to produce power using hydrogen as a fuel were developed years ago. A renewed interest in hydrogen power, aided by government subsidies, aims at developing the technology even further. Also, greater funding is finally allowing the science of hydrogen power to transfer into larger scale civilian and military applications. Storing and charging infrastructure has always been a major roadblock to pushing the technology mainstream. Now, government and private money are creating conditions to jumpstart the building of the necessary infrastructure to make hydrogen power a reality.
The fuel cell technology is the main driver of hydrogen adoption as a powersource on a large scale. Fuel cells have become a viable eco-friendly power source, and advancements in the technology continue to be made. Today, fuel cells are already used for primary and backup power for commercial, industrial, and residential buildings. However, fuel cells are also used to power a variety of vehicles, including forklifts, cars, buses, boats, motorcycles, and submarines. As fuel cell technology improves, the importance of using high-purity graphite in bipolar plates, gas diffusion layers, and catalysts is of utmost importance. Semco is carefully following these industrial uses of graphite in this emerging industry.
Hydrogen Fuel Cells and EVs
As the electric vehicle (EV) industry grows, range anxiety has proven to be a major challenge. Electric vehicles are still limited by their batteries. Especially in commercial applications where vehicles cover vast distances, or in countries which are less densely populated and have long driving distances, range is a real problem for electric vehicles. Fuel cells can deliver electrical power at driving ranges comparable to gas or diesel engines. Therefore, fuel cells are frequently used in mass transportation, especially bus fleets where vehicles return to a central point each day. Fuel cell buses operate in a number of US states, and also in the UK.
Increasingly, car manufacturers are looking at this technology on a larger scale. Daimler and Honda are already leasing fuel cell vehicles and are being followed by other car makers like Toyota and Hyundai.
What is Fuel Cell Technology?
A fuel cell is an electrochemical device that converts the chemical energy from a fuel into electricity through an electrochemical reaction of the hydrogen-containing fuel with the air oxygen or another oxidising agent. Bipolar plates (BPs) are a key component of fuel cells with multifunctional character: they conduct electrical current from cell to cell, remove heat from the active area, and prevent leakage of gasses and coolant. Gas diffusion layers are essential in order to uniformly distribute the fuel gas and the oxygen from the air. Catalysts and catalyst substrates are decisive in order to increase the rate of the fuel cell electrochemical reactions.
Industrial Uses of Graphite in Hydrogen Fuel Cells
Graphite in fuel cells is used as a conductive material for the bipolar plates, which are an essential component of the fuel cell structure. Super thin graphite bipolar plates must be pure and of high quality to improve electrical and thermal conductivity, as well as to ensure long-life operation.
The bipolar plates in proton-exchange membrane fuel cells, one of the most popular technologies in this field, require large flake, high-purity graphite. Fine grained graphite is also used as additives and fillers. In addition, graphite is used in gas diffusion layers (GDL), with graphite crucial to ensuring the correct porosity of this layer. Finally, high-purity graphite is used as catalyst substrate, enabling the precious catalyst metals to be in close contact with the reactant chemicals while avoiding any contamination. The graphite market is a big player in the manufacture of hydrogen fuel cells.
Sustainability of Fuel Cells
Fuel cells rely on an electrochemical process and not on combustion. Noxious emissions from fuel cells are virtually non-existent – an absolute gamechanger even compared to the cleanest fuel combustion processes. Water and heat are the only by-products from fuel cells. Fuel cells are also much more efficient than combustion engines in converting fuel to energy. As they have no moving parts, fuel cells are quiet, durable, reliable, and long lasting with little maintenance.
Once again, graphite is playing its usual understated but crucial role in an emerging green technology. The graphite market will continue to respond to the growth of this re-emergent technology.