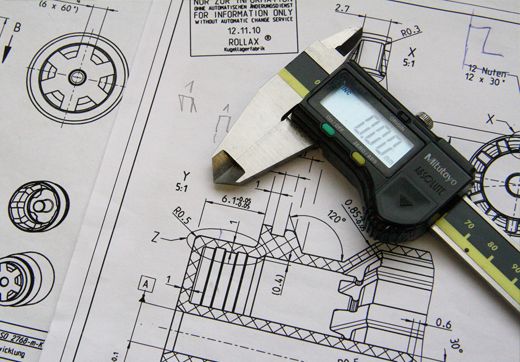 Imagine a Semco clients sends blueprints to us for an R&D mold that's never been manufactured before. We would like to assume that the blueprints are accurate, that the tolerancing is correct, and that all specifications have been reviewed by the client. However, Semco has been in business for decades and we know better than to make assumptions about the manufacturing process.
Manufacturing flawed molds, for instance, where the tolerancing is off even by a miniscule amount, means wasted time and money for us and the client. To avoid these costly situations (and all the headaches involved), we encourage our clients to review all blueprints carefully to ensure that things like tolerancing have been accurately calculated and denoted.
While nearly all client blueprints that we receive are flawless, Semco engineers have encountered instances in this blueprint quality review stage where the tolerancing on R&D molds was configured incorrectly and basic GD&T (Geometric Dimensioning and Tolerancing) was not used. A note on tolerancing: if you have an assembly—two pieces that need to fit one in the other, a diameter inside another diameter—the female part needs to be larger than the male part or the assembly will not function. They also must be very close in diameter to function properly. Tolerancing means setting a range of variation in the size of the parts that is acceptable and uses (+/-) tolerance. So, for instance, you may set the diameter of both the male and female pieces at 1.000", but run the female piece on (+) tolerance—i.e., make it larger—and run the male piece on (-) tolerance, i.e. make it smaller. Since we are running on very precise values here, the nominal diameter for the female piece may be 1.000" (+0.005"). The nominal diameter for the male piece, then, would be 1.000" (-0.005). With this tolerancing, the parts will fit.
What if this basic GD&T is not used in the blueprint for these pieces, and diameters for both male and female pieces are set at 1.000"? Because of natural miniscule variation, you could conceivably end up with a male piece that is larger in diameter than the female piece and, thus, a non-functioning assembly. We encountered such a situation once. Luckily, we at Semco carefully inspect 100% of blueprints for these sorts of errors. This particular error was caught at the blueprint stage before the mold was ever set. This kind of attention to the minutest details of the manufacturing process is what sets Semco apart. We respect our clients designs enough to ensure that we catch that one error out of a thousand that inevitably shows up if you've been in the graphite machining business as long as we have. We expect that our clients use proper methods of dimensioning and tolerancing, but we want our clients to know that when it comes to design and tolerance issue, they can count on us for help. Our goal is to manufacture our clients' designs to the highest standards, and sometimes that requires teamwork.
You can trust your designs with Semco.