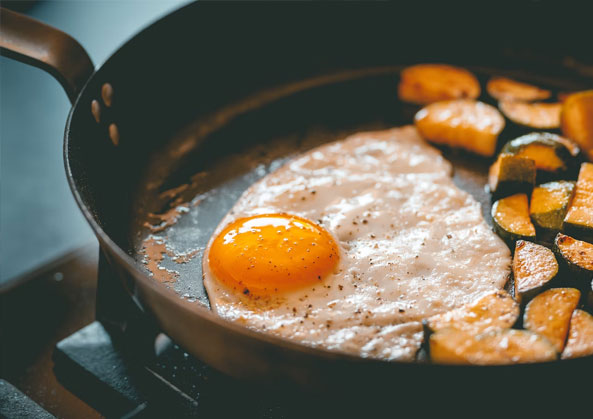 Graphite is a high temperature-resistant material. It isn't too surprising then to find that graphite and Teflon have been combined in industrial applications that go beyond just non-stick cookware, like gasket material (and many others). Teflon-coated graphite refers to a material that consists of a layer of Teflon (a brand name for polytetrafluoroethylene, or PTFE) applied to the surface of graphite. This combination offers unique properties and applications, primarily due to the characteristics of both materials. Between the high thermal conductivity and electrical conductivity of graphite to the chemical resistance and low friction of both materials, Teflon-coated graphite makes a versatile and useful material for many applications. For instance, as you might know from cooking, Teflon is superior to aluminum for cooking something like pasta sauce because Teflon, unlike aluminum, isn't degraded by the acidity in tomatoes. Similarly, Teflon's low reactivity makes it ideal for coating graphite components used in caustic environments such as laboratories where many corrosive organic and inorganic compounds are used.
Before looking at applications of this dynamic duo, let's go over specific properties of each substance.
Graphite Properties
High Thermal Conductivity
Graphite is an excellent conductor of heat, making it suitable for applications where heat needs to be managed or transferred efficiently.
Electrical Conductivity
Graphite is a good conductor of electricity and is often used in electrical and electronic components.
Chemical Inertness
Graphite is highly resistant to chemicals, making it suitable for use in corrosive environments.
Low Friction
Graphite has natural lubricating properties due to its layered structure, reducing friction between surfaces.
Teflon (PTFE) Properties
Non-Stick Properties
Teflon is well-known for its non-stick properties, which make it ideal for use in cookware and applications where materials should not adhere to surfaces.
Low Friction
PTFE has low friction characteristics, similar to graphite, making it suitable for applications requiring reduced friction.
Chemical Resistance
Teflon is highly resistant to many chemicals, acids, and bases.
High Temperature Resistance
PTFE can withstand high temperatures without degrading.
When these two materials are combined in a Teflon-coated graphite product, it often leverages the best of both worlds.
Common Usages of Teflon-Coated Graphite
Bearings and Bushings
Teflon-coated graphite can be used in bearings and bushings for low-friction, self-lubricating applications. The graphite provides good thermal conductivity, while the Teflon reduces friction.
Gaskets and Seals
Teflon-coated graphite gaskets and seals are used in various industries, including chemical processing, where resistance to chemicals and very high temperature environments are required.
Pipes and Pipe Fittings
Teflon-coated graphite can be used in piping systems for chemical handling due to its chemical resistance and low friction properties.
Cookware
While not as common as traditional Teflon coating on aluminum, ceramic, or stainless steel pans, Teflon-coated graphite may be used in some cookware to provide non-stick properties while maintaining good heat conductivity.
Electrical Components
In some electrical applications, Teflon-coated graphite may be used to provide electrical insulation while benefiting from graphite's thermal conductivity.
A product's commercial applications will usually be more widely known than its industrial applications, especially when that product is as widely advertised and popular as Teflon. The introduction of this product into household and commercial kitchens in the early 1960s solved an intransigent problem for many cooks: how to keep food from sticking to their pans so they didn't have to scrub it off later. Now, teflon-coated graphite is helping manufacturers solve difficult problems by combining these two wonder materials. Contact us at Semco for more information about how some of your graphite components could perform better with a Teflon coating.