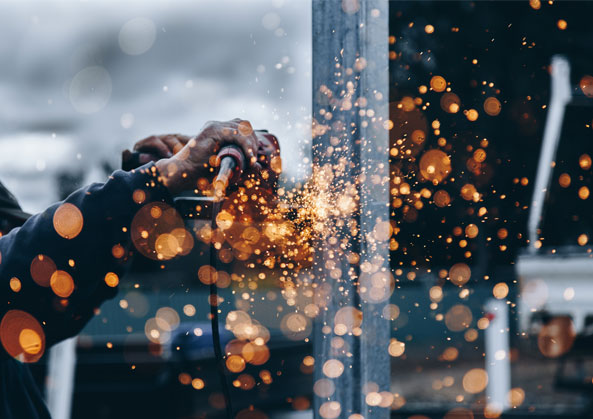 Here's a question: What do electric discharge machines, degassing systems, and li-ion batteries all have in common? Yep, synthetic graphite. Ok, so that was easy, but extra points if you added to that list on your own things like nuclear graphite, anode material, and a million other products and machine components that require various grades of synthetic graphite to function properly. Synthetic graphite is classified into different grades based on its characteristics, properties, and intended applications. Synthetic graphite grades used in electric discharge machines will differ from synthetic graphite grades used in degassing systems. These grades are designed to meet various industrial and technological requirements, and can differ in many ways, including the size of the grains (or particles) in the mixture, porosity, density, flexural strength, and electrical resistance, among others. Below, we will describe some common synthetic graphite grades.
Isotropic Graphite
This grade of synthetic graphite has consistent properties in all directions, making it suitable for applications where isotropic behavior is essential, such as in electrical discharge machining (EDM) electrodes, heating elements, and high-temperature applications.
Extruded Graphite
Extruded graphite is produced by shaping a mixture of graphite and binder into various forms and then baking it. It's commonly used in applications such as crucibles, heating elements, and various mechanical components.
Vibration Molded Graphite
Vibration molded graphite is produced by compacting graphite particles using vibration and then baking them. This grade is often used in applications requiring good mechanical strength and thermal conductivity, such as in foundry molds, continuous casting dies, and sintering trays.
Molded Graphite
Molded graphite is created by molding a mixture of graphite and binder, followed by baking. It is used in applications where specific shapes and sizes are required, such as in glass industry tools, heating elements, and degassing systems.
Isostatic Graphite
Isostatic graphite is produced using a high-pressure isostatic pressing technique, resulting in materials with high density and uniform properties. This grade is used in applications like electrical discharge machining electrodes, aerospace components, and semiconductor manufacturing.
Graphite Electrodes
These are specialized graphite grades used primarily in electric arc furnaces for steelmaking and other high-temperature applications. They are designed to withstand extreme heat and electrical currents.
Nuclear Graphite
Graphite is used in nuclear reactors as a moderator to slow down neutrons and control the nuclear reaction. Special grades of graphite are used to ensure proper moderation and thermal stability.
Graphite for Li-ion Batteries
Synthetic graphite is also used as an anode material in lithium-ion batteries due to its ability to store lithium ions during charging and discharging cycles.
Graphite for High-Temperature Applications
Some synthetic graphite grades are specifically designed for use in high-temperature environments, such as in aerospace components, rocket nozzles, and industrial furnaces.
Graphite for Semiconductor Applications
Highly pure synthetic graphite is used in the semiconductor industry for applications like wafer carriers, susceptors, and heating elements in epitaxial growth processes.
These are just a few examples of the many synthetic graphite grades available, each tailored to different industrial and technological needs. When selecting a specific synthetic graphite grade for a particular application, it's important to consider the required properties and characteristics to ensure optimal performance. Contact Semco if you are curious about various synthetic graphite grades and want to find the one that is most appropriate for your needs. We can walk you through the ins and outs of the various materials' thermal conductivity, mechanical strength, and chemical resistance to identify the best graphite solution for your business.