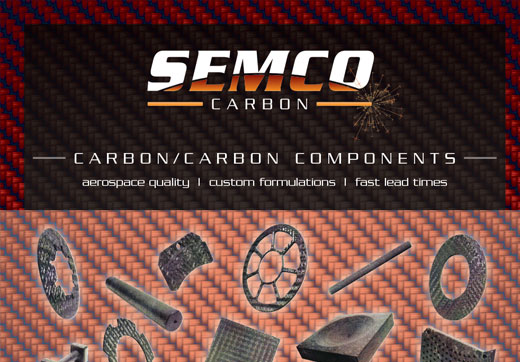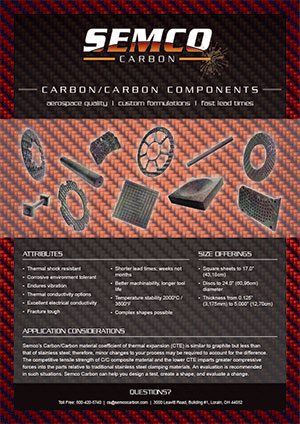 Graphite is our main game at Semco. Our business and reputation are built on years of experience in graphite machining. Our engineers and machinists know just about everything there is to know about working with graphite material. Our customers count on this expertise we have built up over decades of working with carbon materials. It's never enough to rest on your laurels, though. Semco constantly works to streamline our shop floor operation, include the latest technologies to bolster our graphite machining capabilities, and solve problems that come up for our customers. To grow our business, we also look for new products that we can adapt to our manufacturing process. While graphite will continue to be the main material we work with, it is just one among other carbon products. For the past couple of years, Semco has begun working with another carbon material called Carbon Fiber Composites. CFC is an extremely strong and lightweight material that has become essential in several important industries. The growth potential of CFC is staggering. Since Semco's equipment is perfectly suited to machine CFC, we see incorporating more CFC into our production schedule as an excellent business move, one that allows us to leverage not only our existing equipment, but also the broad knowledge about machining carbon material that our engineers and machinists share.
CFC is a relatively new and expensive material that is manufactured using impregnation of the matrix, or matrix precursor in liquid state, into a fiber preform, usually a woven fabric. Due to its exceptional strength and light weight, CFC has become the material of choice in airframe construction, high end automotive framing, and body design. Its great thermal conductivity properties make it a great candidate for use in heat treat tooling, ultra high heat treat applications, and friction products such as high end clutches and brake discs. One of the only barriers to this new carbon product spreading to more industries is cost: since its development, CFC has been quite expensive. This is not unusual for a newly developed material, and we expect the cost of CFC to come down and stabilize in the coming years. Just recently, there has been an increase in large CFC production facilities built worldwide. Once these and even newer facilities increase the production of these materials, we expect CFC use to be within the reach of many more industries and companies. Semco has already partnered with one large CFC manufacturer and is steadily increasing our machining of this company's product per their specific needs.
To meet the coming demand for CFC, Semco has already begun to stock the material for our customers. We offer four distinct CFC grades to our customers, just as we offer various grades of graphite for our customers' graphite machining needs. Not only can we offer customers the raw material, but we also have the capability to machine per customer requirements and prints. As you can see, Semco is ahead of the CFC curve, but we know it's coming. We are always looking to diversify our portfolio beyond traditional graphite materials, and we think that CFC is the perfect material to enable us to grow further.