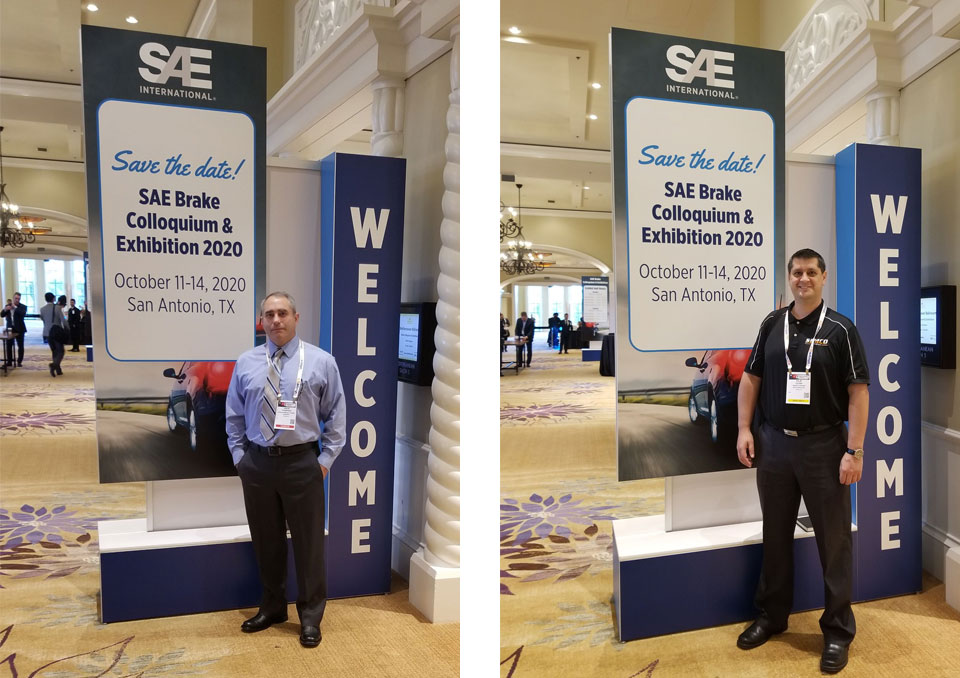 As leaders in graphite applications and carbon composite design and machining, Semco does a significant percentage of our business in the Brake & Friction industry. Heat treat furnaces used on a large scale in this industry rely on graphite components that we tool. These components include graphite/carbon composite trays, discs and fixtures such as heating elements, rails, post, all the way down to bolts and nuts. We produce these components on a regular basis, and as designs evolve, Semco is at the forefront of that evolution.
To remain on the cusp on innovation in this particular graphite application industry, two Semco colleagues (President/Owner Vince Thompson and Sales Manager Filip Cujba) travelled to Orlando on September 22nd to attend the three-day Break Colloquium. This event is the largest brake event in North America and brings together over 800 industry professionals to, as SAE's website says, "share advancements, innovations, and do business around brake systems and friction materials." The Brake Colloquium afforded us the opportunity to connect with existing and potential customers in the industry as well as to research other vendors and their offerings. Advancing our mission of being innovators in this field, the event afforded us an avenue to learn about new technologies, materials, and designs in the Brake and Friction Industry. While we keep up with the trade journals for this industry, it is another thing to learn about new brake designs and materials through immersive discussions with engineers and executives. These discussions, we realized, had potential to translate into new partnerships between Semco and other vendors. As we learned about new trends in design and technology, and vendors learned about Semco's industry-leading graphite machining capabilities, we made plans we expect will materialize into new partnerships. The key to Semco's continued leadership in this field is our capability to adapt and to adopt new technologies. Our expertise working with advanced materials used in the Brake and Friction industry also make us an attractive partner for companies looking to move the industry forward.
The Brake and Friction industry's rapid advancement at the moment can partly be traced to the rise of electric and automated vehicles. The move towards greater safety in this growing sector of the automobile industry is transforming brake development, and this year's Brake Colloquium, which remains the preeminent gathering of Brake professionals in North America, really brought into focus the need for increased brake safety in automated cars. New graphite components with improved design will be critical to new braking systems being developed for electric and automated cars. Other topics covered in the sessions offered at the Brake Colloquium ranged from government regulation to friction materials and noise abatement to the improvement of brake performance.
Vince and Filip feel that the conference was well worth their time. The many new ideas they encountered at the Brake Colloquium, and the connections made to others in the industry, will pay off for Semco as we continue to provide the Brake and Friction industry with our innovative tooling services.