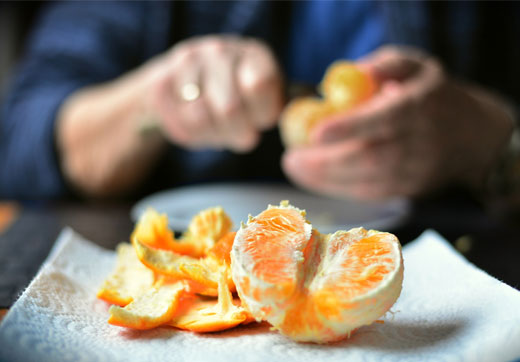 Anyone citrus fan who also happens to work in graphite engineering knows there is more than one way to peel an orange, just as there is more than one way to reverse-engineer or fabricate a graphite component for a customer. These days, all CNC milling machines use software and programming to machine the custom shapes associated with custom parts. Our CAD Department uses CAD Models (Solid Models) to extract the needed features of a custom part in order to create programs necessary to machine that part. One would assume that such a system would guarantee consistency each time we run the same part or job. But at Semco, our mantra is not to assume, but rather to ceaselessly question and test. We did some investigating and found that our tightly run graphite manufacturing system could use an upgrade when it came to re-producing parts or jobs.
All the information related to a part or job is entered in our ERP and costs are calculated prior to production. Those costs are re-calculated and revised after each time a specific part is run. From the ERP, we get accurate numbers. What we found is that there was a large delta between costs from job to job on the same part, same quantities. That should not happen, barring unforeseen circumstances (e.g. machine or personnel issues).
We dug deeper into this issue and found that different machinists were using different techniques to produce the parts. Different tools or various set-ups were used, resulting in an uneven usage of tools and uneven set-up and run times. While all roads may lead to Rome, some roads are longer than others. We were machining good components, but sometimes how we got to that finished product varied. The goal of the graphite manufacturing we do at Semco is not just to produce (and reproduce) a customer's graphite component, but to do so in the most efficient and precise way. It became apparent that a uniform system was required.
We created a new program, under the guidance of our Tool Room personnel, that establishes and monitors a single, unique set of criteria to produce parts. Each part and each set-up for that part is catalogued and saved on our servers. Photos of all the set-ups are named, saved, and stored for easy access. Tool lists are created that apply consistently to the associated parts. And the programs are named for ease of access and stored in one single location. Once a record is created and saved for each part, the catalog of data is attached to the corresponding part in the ERP. Every employee on the shop floor has access to the same set of data, which includes the programs, set-ups, and tools to be used to produce the part. Such a record will have to be created for every single part number in our system.
And that is a huge task. Our CAD programmers are diligently creating correct and easy-to-access folders, then storing the programs appropriately. Our machinists, likewise, are diligently taking detailed photos for each and every set-up. Meanwhile, the tool room is making sure that the appropriate tool lists are created and stored for each job. All this data is collected from our machinists, stored, and attached to the part numbers. Given that we have thousands of part numbers in the system, this process will likely take a while to complete.
That being said, every new job scheduled to be produced goes through this rigorous process of documentation. The amount of data already available for all personnel is huge, and we are only one month into implementation. The accuracy and repeatability of data afforded by this system is already providing savings in time, performance, quality, and tools costs.
The development of this standardization system for our graphite manufacturing process is a win-win for Semco and our customers, who receive a higher quality, more consistent product. They also receive price discounts when the system unearths an hidden inefficiency in the process or tools used to manufacture their part.
For our veteran machinists, but especially our new machinists, the consistent information makes a world of a difference. Now our shop floor employees have resources to easily retrieve set-up photos which they can use to replicate the ideal set-up for each part. In addition, they are 100% sure that the program they are running is correct and they have an accurate list of tools. Effectively, they have the correct outline on how to run a part they have never seen. Accounting's job is easier as well since management added a tool that extracts costs more accurately based on tool usage.
No one said graphite engineering was easy. That doesn't bother us much at Semco, focused as we are on that elusive but worthy goal, perfectibility.