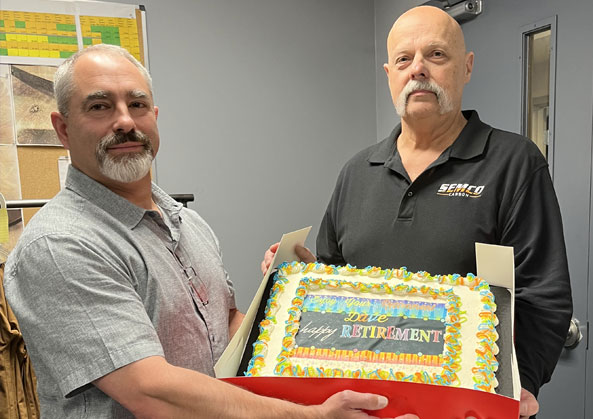 In the midst of a busy season of graphite machining, updating equipment, and beginning new initiatives, it is important to take a moment to bid a fond farewell to a valued employee, Dave Myers.
After 13 years working for Semco Carbon as a Materials Manager, Dave Myers retired this past week. His contributions to Semco cannot be overstated. Dave will be especially remembered for how he brought stability and predictability to his department. Dave trained many employees, quite a few who are still with us. His management style empowered the personnel in the department to be better and to work as a team. The Materials department is now a well oiled machine, and much of that is due to Dave Myers.
Personal Reflections About Dave Myers
Per our Production Manager Kirk Filker: "Dave can be summed up simply with three words: reliable, accurate and consistent. I also consider him a friend after spending 11 years working together."
Per our Supervisor Scott Johnson: "After working with Dave for over 13 years, he will be sorely missed and his attention to detail in the department he ran will be hard to replace. Not only was he a stellar employee but also a great work friend."
Per our Shipping Receiving Manager Ron Gow: "My experience working with Dave was that he was very task-oriented. Once he started something, it had to be finished in a timely manner. He taught me how to design and build crates for all our outgoing shipments large and small."
Semco has become a leader in graphite machining because of dedicated and talented employees like Dave Myers. He will be greatly missed.
We wish you the happiest and most fulfilling of retirements, Dave!