Semco is a leading graphite company because we know our material as well as anyone out there. We value graphite and believe that it doesn't belong in a landfill, ever. Not all materials are as readily recyclable as graphite. If you've ever considered putting a plastic bag in a recycling bin only to be reminded by a sign on the bin that plastic bags are prohibited, you know that many plastic items simply end up in landfills, or worse, in the ocean. Graphite is different. It's a hardy and versatile material, and nearly any graphite element past its prime can be repurposed for another industrial application. Semco's graphite recycling program saves millions of pounds of graphite from the landfill while giving companies an easy and environmentally responsible way to dispose of their used graphite material. Whether it's extruded graphite, solid chunk material, or graphite dust that a company has lying around it's factory floor, Semco has the expertise and equipment to make that graphite useful again.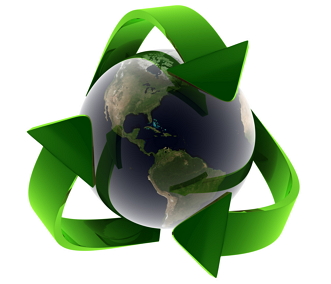 Semco puts so much effort into our recycling program because it's a win-win proposition for a graphite company and its clients. This past year, Semco signed two contracts with large companies in the photovoltaic solar industry to recycle their used material. Both facilities use large volumes of graphite in their operations. The material we recycle comes in form of high purity graphite dust as well as solid chunk material from spent parts. Each company is sending over 1 million lbs. of recyclable material to us. In addition to used graphite we receive from other companies, our own facility produces over 1 million lbs. of graphite dust and chunks from our machining operation and saw department. Semco recycles nearly all of this material as well. We assure a high level of purity in the dust we recycle by running it through our filtration system and removing any possible impurities. The chunk leftovers are segregated, and all recyclable graphite is stored dry until it is processed further. With the additional companies recycling graphite with Semco, our total recyclable graphite totals well over 4 million lbs. per year. That's 4 million lbs. of useful material that does NOT end up in a landfill.
So what do we do with all this recycled graphite? Well, we sort and segregate materials in our warehouse so that we can offer customers an (Cheaper?) alternative to freshly manufactured graphite, a product whose price fluctuations are being exacerbated by uncertainties in our trade relationship with China, where much of the world's graphite is produced. Whatever form of graphite a client needs, be it dust, extruded graphite, or chunk molded, we will have the material on hand. And what do our clients do with this recycled graphite? The list of applications for these graphite elements is extensive, but we'll describe just a few. First off, graphite is an excellent and popular dry lubricant because it is semi-permanent and nearly maintenance-free. In applications where graphite is used as a dry lubricant, it is replaced only when it wears out. Another application of our recycled graphite is use as a carbon riser or graphite carburiser. These are high volume materials needed in the cast iron industry. Applications like these are where our carbon filtration system is especially crucial. High purity carbon material is preferred by the cast iron industry since impurities (usually sulfur content) can negatively affect the casting structure. A high purity graphite riser, such as the material that our graphite recycling program provides, improves the metallographic structure of casting, shortens the carbonation time, and improves the carbonization effect. Some of our recycled graphite is even used as a pigment in various industrial applications. Often it is simply used as filler.
Choosing Semco for its graphite machining needs benefits companies in many ways. One of those ways is that we help companies meet their sustainability goals by providing graphite recycling services as an all-inclusive solution. Not only are we producing the graphite elements our clients need, but when the time comes to dispose of the spent graphite, our customers do not have to allocate resources to locate another graphite company that can recycle their graphite. They simply send it back to us for reprocessing. With the way it keeps coming back full circle, we think our graphite might love us as much as we love it.