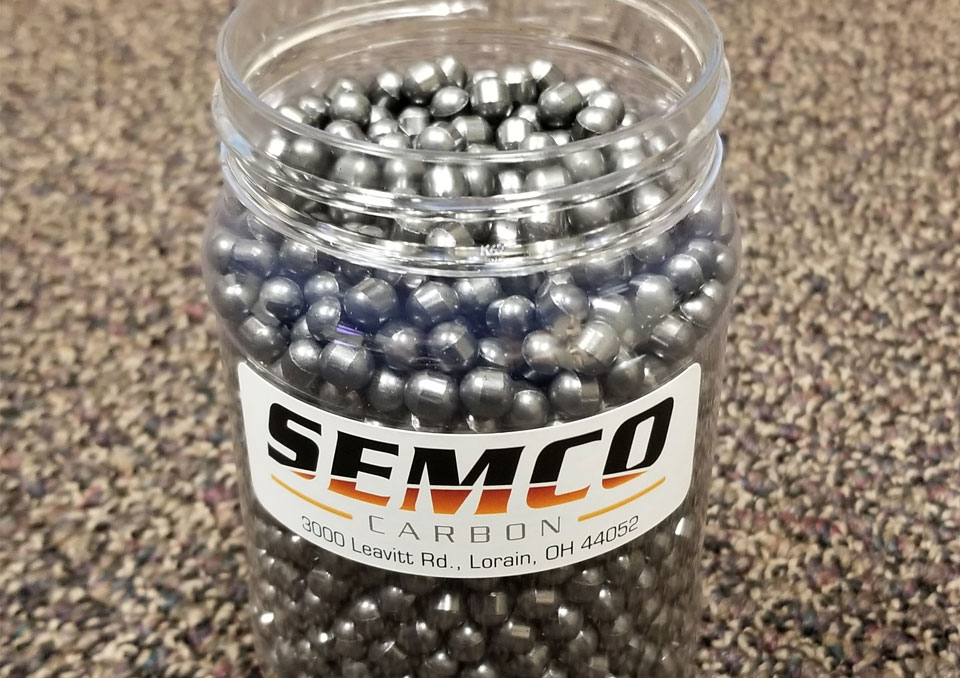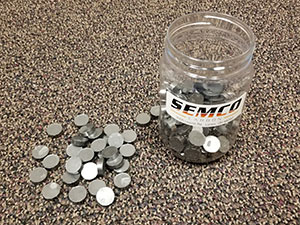 Semco has been an innovator in machining graphite products for a long time. A dynamic company, we are always looking for growth opportunities. We understand the needs of our clients, and our team members have amassed extraordinary knowledge and expertise about graphite. The next logical step for our company, which will leverage our market knowledge and material expertise, is to manufacture graphite materials ourselves. While we have formulated a multitude of synthetic graphite grades, our access to ultra high-purity natural flake graphite has allowed us to develop and begin producing an innovative, new material that will serve as a dry lubricant for various industrial processes.
This new graphite product will be manufactured in various-sized blocks and plates, and will also come in pellet and tablet forms. The process we designed to manufacture this material uses a Semco proprietary system that consists of milling the raw material to specific sizes, adding a teflon additive, then mixing with appropriate binders. The composition is then sized and pressed to achieve maximum densities over 2.1 g/cm³. The resulting material will serve as a dry lubricant that can be customized in size, shape, and density to accommodate various applications and requirements.
So why use a graphite material, rather than a traditional oil-based substance, as a lubricant? They both reduce friction, after all. In the case of graphite, this quality stems from the loose structure of carbon atoms that make graphite layers slide easily over one another. From a performance perspective, however, a dry lubricant is as good, if not better, than other lubricants on the market. The distinct advantages of dry lubrication are in applications that require lubrication without routine maintenance. If a company runs a machine continuously, and stopping the machine essentially means halting production, then a dry lubricant is a good choice. Dry lubricants, such as our new graphite product, are also necessary in applications where a wet lubrication would pick up dust and/or other foreign particles, a down-side to wet lubrication that is detrimental for the proper operation of many systems. Dry lubrication is simply a cleaner, more semi-permanent solution. Graphite lubricants also tolerate extremes of pressure and heat that can cause other lubricants to break down. We designed our new graphite lubricant to embody all these positive characteristics of dry lubricants. Because we use only the purest natural flake graphite along with binders carefully chosen by our engineers to enhance the performance of the material as a lubricant, we can assure out customers that when they use our new graphite product, they will be getting the most state-of-the-art dry lubrication that will protect their machinery from friction wear and tear. And because we manufacture the material in-house, we can design its form to our customers' precise specifications.
If you believe that your application or process requires, or would benefit from, a dry lubrication solution, Semco would love to work with you on a customized solution that fits your exact needs. Please send any inquiries with regards to this material to sales@semcocarbon.com.