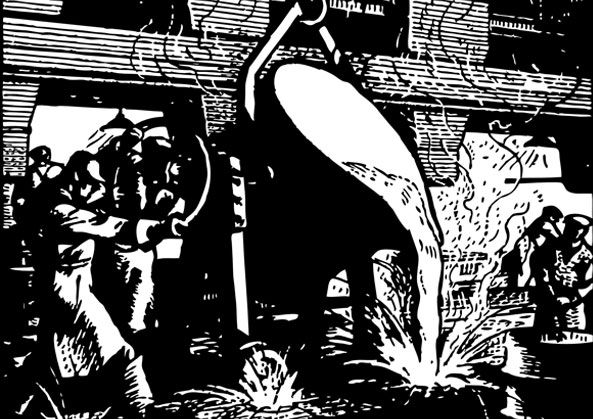 Graphite in Heat Treat Furnaces
Graphite is commonly used in heat treat furnaces because of its high temperature resistance and chemical inertness. Semco has long worked with companies in the heat treatment industry to provide reliable custom graphite components for their heat treat furnaces. Below we will explain what heat treatment is, why graphite's properties like chemical inertness and high temperature resistance make it ideal for use in this industry, and why Semco is such a trusted name in the heat treat furnace industry.
What is Heat Treatment?
Heat treatment covers a wide variety of processes. In each of these processes, a material is altered chemically, physically, or both using extreme temperatures, usually extreme heat but sometimes extreme cold (cryogenic treating). When cryogenic treating is used, it is often in concert with extreme heat treatment. These processes are always executed in managed environments where heat and time can be monitored and precisely controlled. In heat treat furnaces, not only the extreme temperatures, but also the cooling rate must be precisely manipulated to control the effects on the material. Heat treat furnaces, which usually contain graphite, are used to create alloys, to temper steel, and even to create glass. Because a range of chemicals and extreme heat are employed in heat treat furnaces, graphite is an ideal material to use in these furnaces. Here are a few qualities of graphite that make it a go-to material for makers of heat treat furnaces.
High-Temperature Resistance
Graphite is known for its excellent thermal stability and resistance to high temperatures. It can withstand extreme heat without significant deformation or degradation, making it suitable for use in heat treat furnaces where temperatures can reach several thousand degrees Celsius.
Heat Transfer
Graphite has good thermal conductivity, allowing it to efficiently transfer heat within the furnace. This property helps in maintaining uniform temperature distribution throughout the heat treat process, ensuring consistent results.
Chemical Inertness
Graphite is chemically inert, meaning it does not readily react with most materials or gasses at high temperatures. This inertness is essential in heat treat furnaces to prevent contamination of the treated parts or reaction with the atmosphere inside the furnace.
Low Thermal Expansion
Graphite has a relatively low coefficient of thermal expansion, meaning it expands minimally when exposed to heat. This property helps maintain the structural integrity of the furnace and prevents dimensional changes that could affect the process or cause damage.
Electrical Conductivity
Graphite is an excellent electrical conductor, allowing it to be used for heating elements in some types of heat treat furnaces. Electrically heated graphite elements can generate heat directly through resistance, providing precise control over temperature and heating rates.
Lubrication and Mold Release
In some heat treat processes, graphite can be used as a lubricant or as a coating on tools and molds to facilitate easy release of treated parts. Graphite's low friction properties make it suitable for such applications.
Semco Knows Graphite and Heat Treat Furnaces
If you know that graphite is your preferred material for your heat treatment needs, that's a start, but there's still a lot more to know. Don't worry, Semco has you covered. For instance, specific applications and furnace designs may require different types of graphite materials, such as carbon or graphite composites, to meet specific requirements. Additionally, proper safety precautions should be followed when using graphite in heat treat furnaces, as it can oxidize at very high temperatures, producing potentially hazardous gasses. Contact us if you have further questions or concerns about graphite for heat treat furnaces.