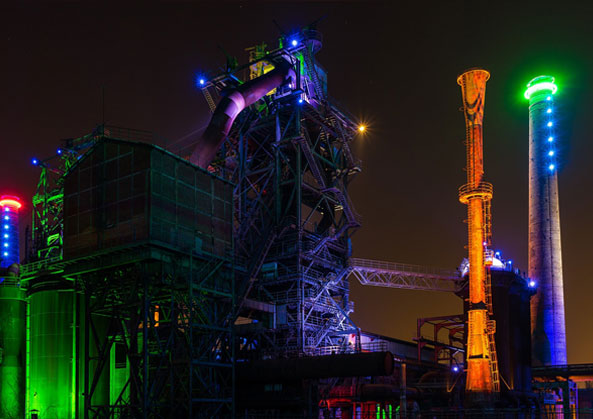 In our graphite machine shop, we have the three things necessary to produce graphite heating elements of any type or size: a variety of graphite blocks, machines optimized for machining graphite, and skilled and experienced graphite machinists. If your manufacturing facility produces sintered metals or brazes copper, or in any way employs high-temperature vacuum furnaces in your manufacturing process, you likely rely on graphite heating elements. There are many reasons that graphite is the preferred material for heating elements, several of which we discuss below.
Why Graphite Heating Elements?
Graphite is a desirable material in various thermal applications due to its thermal properties. For instance, graphite has high thermal conductivity, allowing graphite heating elements to transfer heat onto materials with which it comes into contact. Graphite also has high chemical resistance. It won't corrode in the presence of many harsh organic and inorganic compounds that would quickly degrade other materials. Basically, graphite is tough in places where most other materials fear to tread, like places where sintered metals are produced using extremely high temperatures. Graphite heating elements are manufactured from a high purity synthetic graphite, providing excellent temperature uniformity, longevity, mechanical strength, and repeatability. Not only are graphite heating elements able to handle the tough conditions, but they do so consistently, for a long time. When a graphite shop like Semco machines high quality graphite heating elements, our customers who order them don't have to worry much about them after installation.
Are All Graphite Heating Elements the Same?
Heating element design and material selection is critical to the proper functioning of any vacuum furnace. A well-functioning vacuum furnace is dependent on a number of factors. These factors can include the furnace's maximum operating temperature, its power load, partial pressure, the quench gases used when quickly cooling materials, and the life expectancy of the furnace's components. While not always the case, the vast majority of vacuum furnaces are electrically heated. As such, heating elements are constructed of either high-temperature tolerant metallic alloys or of non-metallic materials, especially graphite. Graphite is more commonly used for higher temperature processes such as hardening and nickel or copper brazing. Sintered metals are also commonly produced in high-temperature vacuum furnaces heated by graphite heating elements.
More Benefits of Graphite Heating Elements in Vacuum Furnaces
The graphite heating elements used in vacuum furnaces are highly inert. The material will rarely degrade or fail because of chemical reactions, graphite being an unusually stolid material. In addition, the graphite material actually increases in strength as it becomes hotter. Where many other materials expand as they heat up, graphite materials's low expansion coefficient means that it is resistant to degradation due to constant heat cycling. Therefore, graphite heating elements have good lifespans. Don't confuse the longevity of graphite heating elements with slowness; they also have a relatively fast ramp rate.
Semco can help customers address any needs they may have for graphite heating elements. These graphite heating elements can be machined conventionally from large graphite blocks as raw material. Therefore, we can machine very large elements along with more conventionally sized ones.
Any size or shape of graphite heating element you need, Semco can machine it for you.