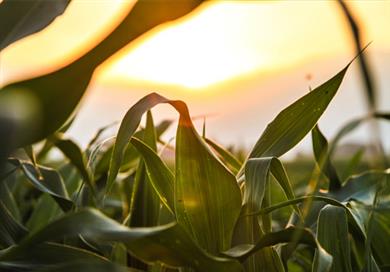 Add huge graphite "logs" to the list of unusual things, like magical baseball diamonds and crop circles, found in Iowa corn fields. That's what we did when we received a call at Semco from an Iowa farmer who discovered a giant cache of discarded graphite on his property.
At Semco, we specialize in precise graphite machining and offer graphite recycling services for the convenience of our customers. An added benefit of this service, of course, is its benefit to the environment. When businesses and individuals who have stored scrap graphite or old graphite machine parts want to clear space and get rid of the material, they call us. Not only do we have the capacity to recycle graphite, we are, in cases where large quantities are involved, able to arrange pick-up from its storage location. In the case of this Iowa farmer, we were happy to retrieve the tons of graphite she found in the weeds adjacent to her cornfield.
Graphite Electrodes in the Field
The discovery of the collection of large graphite electrodes on this farmer's property was quite a surprise to the farmer. Hidden amongst some tall grass in a field being cleared for planting, the graphite electrodes (which are often used in foundries because of their ability to withstand extreme heat) were cut up into pieces, or "logs." After the first three logs were found, the farmer continued her search, turning up a few large blocks of graphite plus several old crates. A total of about 25 pieces of graphite were found, some as large as 9' long and 3.5' in diameter. The farmer had plans for this field, plans that were stonewalled, at least temporarily, by this strange collection of crystalized carbon.
The farmer did what most people do when faced with a completely unfamiliar and unexpected dilemma—she turned to Google. She easily found Semco's Recycling Services and gave us a call. Once we arrived on scene to survey the material, our curiosity got the better of us, and we inquired of the farmer if she had any idea how these pieces of graphite ended up next to his corn. She stitched together some family history and determined the provenance of the graphite in his field. Her Grandfather once worked for John Deere, a company that began across the Mississippi River from Iowa in Moline, Illinois. The Grandfather's shop was a foundry that used large graphite electrodes. When the foundry shut down, the Grandfather, who owned a sawmill on his property, was subcontracted by John Deere to cut up the used electrodes. The story goes cold there, but we assume the Grandfather found himself with 180,000 lbs of graphite, no easy way to move it, and a conveniently fallow field nearby.
Add "old crane" to that list of Iowa cornfield oddities. Lucky for Semco, that old crane on the farmer's property still worked, and the logs, blocks, and crates were able to be loaded onto pallets and then onto several trucks. We hauled it all back to our graphite recycling facility in Lorain, Ohio where we were able to repurpose the material for industrial use.
This story was a win-win for everyone involved: the farmer got his field back with little trouble or expense, the local landfill avoided tons of perfectly good graphite, and Semco even made a small profit.
It's safe to say about Semco and graphite that if you find it, we will come.