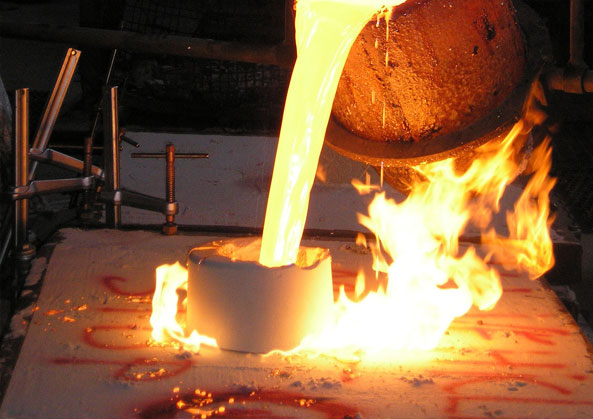 Graphite Fabrication and Metal Casting Molds
Graphite serves useful functions in various industries and in the production of other materials. We've written extensively here about carbon lubricant for industrial machining, and graphite molds used to make things as various as gold ingots and zinc-aluminum alloy components. Metal casting molds, of course, are quite often made of graphite. Some of the graphite fabrication that we do at Semco is machining metal casting molds or graphite molds to shape other materials. Graphite has the lucky and quite unique quality of not sticking easily to many other materials. That quality, along with its tolerance of high heat, makes graphite an excellent choice for metal casting molds. Molten substances can be shaped in graphite molds quite easily, usually with no other lubricant necessary for the process.
Graphite Molds and More For the Glass Industry
There is another industry we haven't mentioned yet in which graphite fabrication plays an important role: the glass industry. Look around at any building near you and you'll likely see glass, though we often don't think of glass when we think of construction material. Glass goes unseen because, well, it's transparent. But picture in your mind many modern office buildings; glass makes up much of the exterior, and quite often, there is a lot of glass in the interior as well. Glass is very big business. And graphite is used extensively in the glass manufacturing industry, sometimes as molds, other times as tooling for processes that cut and shape glass.
Below are some of the reasons that graphite fabrication is so essential to the glass industry and why the amazing properties of graphite make it an ideal material for use in making and shaping glass.
1. Graphite is Non-scratching.
The delicate nature of glass requires gentle handling to avoid being scratched. Because graphite is inherently soft, it is the ideal material to use for molds and tooling used in glass production. It may be odd to think of a carbon material like graphite as soft -- after all, aren't diamonds also, like graphite, made of carbon? Well yes, but graphite is composed of layered sheets of carbon. These sheets are held together by weak forces, and can thus slide easily past one another. It is this quality of graphite -- the weak bonds that hold the sheets together -- that make graphite a soft material, and why it won't easily cut or scratch glass.
2. Graphite is Naturally Lubricating.
Carbon graphite is a lubricating material often used as a deliberately wearing part in machinery. This means there is no need for oil or other lubricants to be used around graphite components. While this aspect of graphite is useful in many industries, it is particularly useful in glass making, where other liquid substances present could degrade the molten glass.
3. Graphite Has High Oxidation Resistance
Graphite can withstand extended exposure to high temperatures. Since glass is molten at temperatures around 1700℃, the components, such as bearings or rollers over which the molten glass passes into and out of the furnace, must retain their integrity in these extreme conditions. Sure graphite is soft, but around hot furnaces, graphite is no softie.
4. Graphite is Non-Wetting
Molten glass is like superglue. It will stick to almost anything. One substance it will not adhere to, though, is carbon graphite. The material's non-wetting properties mean that graphite molds are especially useful in the glass industry. And it isn't just graphite molds that are useful when working with molten glass. Any component in glass manufacturing that comes into contact with the molten glass should be made of a substance to which the glass does not adhere.
5. High Thermal Conductivity
Have you ever made the mistake of throwing hot water on frozen glass? Maybe you did that to your car windshield on the first cold morning you drove to school after getting your license. You probably remember what happened (crack!), and maybe even what your Dad said to you when you told him what you had done. Suffice it to say that glass is subject to temperature shock. Graphite has high levels of thermal conductivity, meaning that heat travels quickly through it. Like a chameleon changing color to match its surroundings, the graphite changes temperature and avoids the risk of the glass it comes into contact with being subject to temperature shock.
Where is Graphite Used in Glass Production?
The glass industry uses graphite in many ways. The components of a glass production set up that are most likely composed of graphite are bearings, rods, rollers, and molds. Graphite isn't just used in sheet glass production, though. Perhaps you've seen a glass blowing artist at work. Those artists who specialize in blowing handmade glass creations use graphite tongs to grasp and manipulate the pieces they are shaping. Graphite can be used in annealed, tempered, or shaped glass production.
Basically, glass and graphite are a match made in manufacturing heaven. If you are an artist working in blown glass, or if you own a large float glass production facility, please reach out to Semco for your graphite mold or graphite component needs.