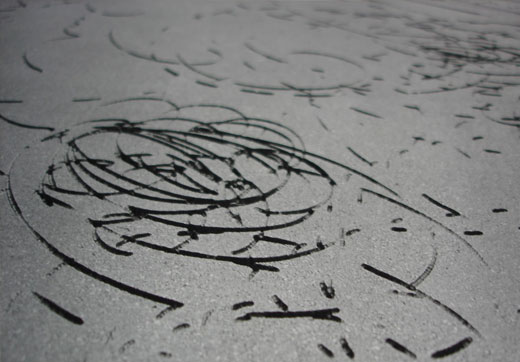 Graphite Machining
At Semco, we are industry leaders in graphite machining. When companies need custom graphite components for various industrial processes, they call us. It is not everyday, though, that we get requests to turn someone's graphite design into a work of art. This recently happened at Semco when we worked with renowned artist and inventor Michael Joaquin Grey to produce, using our graphite machining tools and expertise, several sculptures from his designs. This collaboration was an exciting departure for us, but one that we welcomed because our expertise matched up so seamlessly with the client's needs.
Michael is an extraordinarily accomplished artist and inventor. If you've had kids who loved to build things but wanted a toy more versatile than Legos, you may have encountered one of Michael's inventions: the Zoob. Zoob is a building set and toy modeling system composed of plastic pieces of several designs that kids (and parents!) can fit together into three-dimensional toys to suit their imaginations. There frankly isn't a better toy for encouraging engineering skills in children. In addition to Zoob, Michael is a respected artist with pieces in galleries and museums around the world. Several years ago Michael was featured in a show at PS1 MOMA in Queens—one of New York City's most popular and distinguished art museums—for which the curator wrote of Michael that he is "an artist whose work has bridged the boundaries between art, science, media, and the imagination." The curator's notes on Michael's work continues thus: "His interdisciplinary practice revolves around the development and origins of life and language, as well as morphology. The self organizing principles of living and nonliving things, from muscle cells up to cultural phenomena, are among the diverse concerns that Grey's work examines." Michael is versatile in his choice of media. He makes prints, videos, and sculptures, among other things. The material he had in mind for several of his sculptures was graphite, not a simple medium to work in for a sculptor, nor for anyone without the advanced CAM tools and other specialized equipment, and deep knowledge of the intricacies of graphite machining. That is why Michael approached Semco, experts at executing complex graphite design projects. A couple of Michael's designs, machined by Semco, can be seen in this article.
Graphite Design
Both pieces by Michael clearly indicate the advantages of graphite as a medium for sculpture. The close-up of the second piece especially demonstrates the capacity of graphite to be shaped into delicate patterns that, while very solid, seem on the point of being swept away. It also exemplifies the ability of our graphite machining tools to filigree the material into these complex patterns. Michael's graphite designs required great precision and constant feedback throughout the manufacturing process to ensure that his vision was manifest in the material. Semco was able to provide this level of precision machining that turned a block of graphite otherwise destined for life as an electrode, crucible, or heating element into an imposing yet complex and engaging work of art.
Semco is proud of our collaboration with Michael. We work with graphite every day—it was a nice to be reminded of the aesthetic potential of this common but magnificent material. After you see Michael's works in person, you'll never see graphite the same way again.