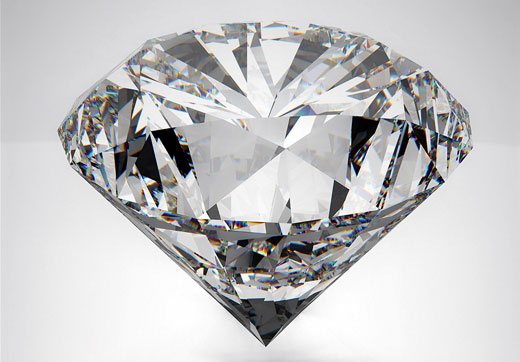 Don't believe the advertising slogan - diamonds are NOT forever, at least not if we're talking about diamond tools. They wear out too, it just takes them a while. Diamond tools are special, though, with many specific applications that demand the singular qualities provided by what is popularly understood to be the hardest natural substance. At Semco, we play a part in using synthetic graphite to produce diamond tools.
We know what you're thinking: "Diamonds and graphite are siblings -- they both come from the same parent substance, carbon. Semco must just press the graphite until it becomes diamond graphite!" Not a bad idea. If that were possible, we would be very rich at Semco. However, that is not how we contribute to the diamond tooling industry. We will explain in this blog the part that we do play in the diamond tooling industry (high temperatures are involved, or course). Before we go into that process, though, let's go over exactly what diamond tools are used for. Here are some examples of industrial uses of diamond tools:
Geological or project exploration. When geologists start poking around the earth's crust, they often use diamond geological drill bits, diamond oil drill bits, and diamond thin-wall drill bits. The main applications of PCD (pardon our acronym -- that means polycrystalline diamond) drilling bits are in the oil and natural gas industries as well as the mining industry.
Stone processing. When you need to shape that marble or granite countertop, you need a very strong material. Diamond circular saw blades, diamond gang saws, and diamond band saws are used to saw marble, granite, and other stone blocks. Diamond wire saws are used in stone quarries to exploit raw stone blocks. Diamond tools are even used in applications very similar to cookie cutters; shaped diamond tools help manufacturers process stone to a particular shape. And when a rough and tough stone needs a bit of finish, resin-bonded diamond polishing pads can be used to polish the stone.
Construction. If you're imagining that a diamond tool could only be used in a, well, classy applications, consider that medium or small-sized diamond saw blades, diamond core drill bits, and some diamond grinding or polishing tools are often used in repairing roads. Not quite what you expected, but it is the mark of a valuable material that it is versatile. And speaking of versatility, these diamond grinding and polishing tools are also used in remodeling buildings and processing building materials.
So where does synthetic graphite like that machined at Semco come into play?
Glad you asked! Synthetic graphite is crucial in the sintering process. For the uninitiated, sintering simply means putting high temperature and pressure to bear on a powdered substance in order to create a solid block of that substance without melting it. The sintering process allows diamond powders (which are composed of diamond particles mixed with various metals) to take the shape the manufacturer needs. Synthetic graphite is used due to its excellent machinability, allowing for complex parts to be produced. The graphite molds can handle the diamond's high temperature and allows for a good uniform heating process due to its electrical conductivity. Synthetic graphite is also known for its compressive strength, which is needed to compress the diamond powders.
Have you ever made a load of banana bread you couldn't wait to share with others, only to get it out of the oven, attempt to turn it out, and find out that the bottom half has stuck completely to the pan, even though you slathered it in butter? Well, that's happened to a few of us at Semco. We should have known better. As graphite experts, we know how valuable the self-lubricating quality of graphite can be in the manufacturing sector. Graphite, on the atomic level, is slick. Things don't stick to it. It is, therefore, an excellent dry lubricant, and is used in a myriad of ways as a lubricant in the manufacturing sector. In the case of manufacturing diamond tools, once the diamond and metal powder has been heated and compressed within the synthetic graphite mold, the graphite's self lubrication allows for the formed diamond parts to release with ease. Careful now -- we don't mean for you to go slathering your banana bread pan in graphite dust!
To give you a clearer idea of what we make for the diamond tooling industry, here are some of the product we produce, with brief descriptions of each:
Resistance Heater Blocks:
Precision ground resistance heater blocks used in the manufacture of electrical connectors, buss bars, sintered diamond tooling, and hot pressed metal products
Frisch Machine Heater Blocks:
Frisch machine graphite resistance heater blocks, used in the hot press sintering process.
Ring Molds/Core Drill Molds:
Precision machined and polished graphite molds used for the production of a single piece core drill sintered diamond cutting segment.
Hot Pressing Punches:
Turbo-style graphite hot pressing die/punches used to produce sintered diamond core drill segments.
Hot Pressing Dies:
Turbo-style graphite hot pressing die/punches used to produce sintered diamond blade segments. These segmented blades are used to cut everything from asphalt and concrete in the construction industry to sandstone and granite in the stone industry.
So yeah, no diamond graphite. When we figure that alchemy out, though, do look for us on the New York Stock Exchange.