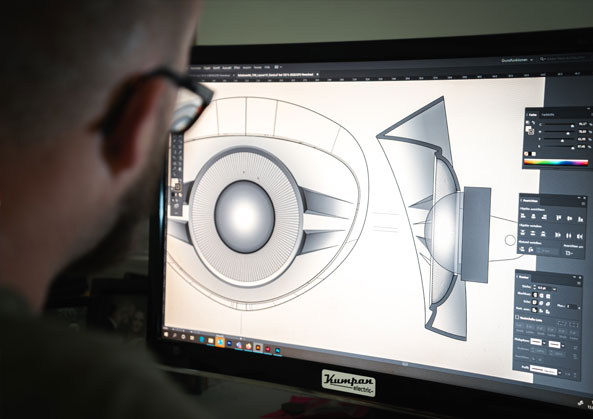 Computer-aided design, more commonly known as CAD, is the use of computers in the design process across a wide range of industries. CAD software is primarily used to create highly accurate models, but CAD covers all steps in the design process, from creation and modification to analysis and design. In our industry, CAD software is notably used to create precise drawings and models of objects and structures.
CAD was developed as a more accurate, affordable way for designers, engineers, and manufacturers to design, visualize, and test models while minimizing the chance of mistakes. As CAD allows for easy modification, documentation, and collaboration, it is a far more precise, efficient, and faster method than traditional manual drafting. Today, CAD has replaced manual drafting in a range of industries.
Our Computer Aided Design Department
Semco has a very robust CAD department capable of aiding our customers with any project. We use CAD software to create the programs needed internally to run product. CAD also allows Semco to create prints and solid models for our customers. These applications help customers catch any issues in the design of their graphite components before they are run.
New Additions to Our CAD Team
We are happy to announce that we have added two very capable CAD programmers to our CAD department team. Both Emery Patrick and Cody Martinez are top notch programmers with great experience in Computer Aided Design programming and in machining parts. Let us introduce you to these folks.
Emery Patrick (in his own words):
I am a father of two little girls ages 9 and 12 (please wish me luck). I have been in programming for the past 8 years, and I specialize in 5th axis programming. We have big plans for the future of this company, and I am glad I landed here. Semco is a wonderful place to work and the people are great.
Cody Martinez (in his own words):
Hi I'm Cody Martinez. Most of my machining background is blended between different sectors. A large part of my experience is related to the aerospace sector working on parts for NASA through contracted companies and private programs. The other half of my experience has been in the defense sector on consumer products like the AR-15 line, and on government projects. I enjoy all forms of "Making" whether it be cooking or building an automated mechanical system. When I find free time (rare) I like to fish, targeting mostly predatory fish. I look forward to getting to know my new colleagues and growing together while we encounter the challenges to come.